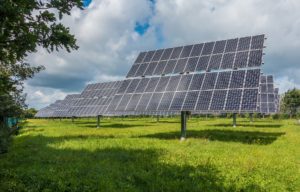 Co-op Energy has launched the Community Power tariff that will ensure all the electricity provided is sourced from community renewable energy projects.
The tariff is the first of its kind in the UK according to the company, and will see the company look to projects like Southill Solar for renewably generated power. The project already works with Co-op Energy, powering around 1450 homes, and using the profits it makes to support other green community initiatives.
According to Co-op Energy, the tariff will cost around £5 more a month than the standard tariff for a typical household. It will be part of a joint venture between The Midcounties Co-operative and Octopus Energy.
Greg Jackson, CEO of Octopus Energy said: "Being able to buy locally-sourced clean, green energy is a massive jump in the right direction for this country's ailing power grid and carbon emissions. Investing in more local energy infrastructure and getting Britain's homes run by the sun when it's shining and the wind when it's blowing can end our reliance on dirty fossil fuels sooner than we hoped.
"Local people investing in local people means that we can all muck in and put the work in to decarbonise where governments and large companies are slow to. I'm so excited to see our grid's green energy mix grow thanks to this product."
The tariff will cost on average £88 a month for a typical household, and profits will be reinvested back in to the community energy projects.
Phil Ponsonby, chief executive of Midcounties Co-operative, said that the company wanted to "go even further" in support of community power.
"Our Community Power tariff is the UK's only tariff powered by 100% community-generated electricity and we ensure a fair price is paid to community generators.
"Thanks to the co-operative values of The Midcounties Co-operative and the technological capability of Octopus Energy, the Community Power tariff provides customers award-winning service and access to community generation."
Co-op Energy powers around 300,000 homes, and formed a strategic partnership with Octopus Energy last year. The two companies then launched Co-op Community Energy, a joint venture to support renewable energy projects.
Octopus Energy has seen a flurry of announcements recently, including launching of a new energy supplier together with the Mayor of London, entitled London Power.