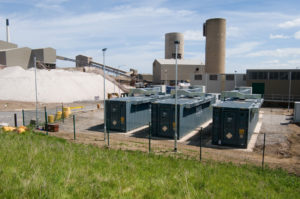 Gore Street Energy Storage Fund has awarded NEC Energy Solutions both EPC and long-term O&M contracts for 100MW of storage in Northern Ireland.
NEC has committed to construct the two 50MW projects at a fixed price by a specified completion date, to provide for performance and availability warranties and to operate the projects for up to 15 years.
The combination of fixed prices, warranties backed by liquidated damages and guaranteed completion dates further de-risk the projects, Gore Street said, with the projects on track to be commissioned in Q1 2021.
The projects, located at Drumkee, County Tyrone and Mullavilly, County Armagh, form part of the 160MW portfolio of Irish solar that Gore Streetacquired last year and are to be jointly developed with Low Carbon.
They are expected to earn revenue through the DS3 flexibility market, Gore Street said, alongside the two 30MW projects in the Republic of Ireland that have secured six year contracts. Gore Street intends to participate under the DS3 Standard Contracts tender in October 2020 and proceed with testing throughout December and January.
The Northern Ireland projects are also set to earn revenue through the Irish Capacity Remuneration Mechanism and, after the end of DS3 services, wholesale trading.
The first battery in the Republic of Ireland was completed this week by Statkraft and Fluence, and it is also set to participate in the DS3 market.
Alex O'Cinneide, CEO of Gore Street Capital, said: "We are pleased to deliver this significant positive news and major milestone in the development of our important Northern Irish assets on schedule.
"We have one of the largest portfolios of its kind and we also have a portfolio which is made up of the newest, most technologically advanced and therefore the most cost effective assets," O'Cinneide added.