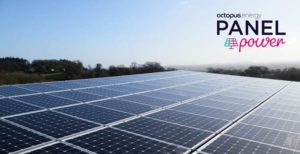 Octopus Energy for Business (OEB) has launched three new tariffs for companies that have their own solar power.
The product, entitled Panel Power, will offer fixed single, Tri-band and Agile import tariffs, and a 4p/kWh export tariff.
Panel Power is designed to simplify energy production, consumption and exporting, according to OEB. It provides companies with a singular bill that shows how much power they've generated, how much electricity they've used and how much they've sold back to the grid.
In particular, the tariff is designed to support companies to pursue greener energy following the government's removal of the Feed-in Tariff (FiT).
Zoisa Walton, CEO of OEB, said that the loss of the FiT had left "financial uncertainty" for businesses with solar panels and installers.
"We wanted to go above and beyond just offering an export tariff by creating Panel Power, which makes solar generation, usage and export smarter and more simple to use than ever before. We believe many businesses will consider using it to drive down their own emissions and benefit from producing their own clean, green energy."
The FiT finished in March 2019, and there was a significant gap between its replacement the Smart Export Guarantee (SEG), which was brought into action 1 January 2020.
Octopus launched an export tariff last April, the Outgoing Octopus for domestic customers, seeking to be one of the "first movers" in the area. That tariff comes in at 5.5p/kWh, slightly higher than the 4p/kWh it's offering through the new Panel Power tariffs.